WHAT IS STRATEGIC PLANNING?
Create SYNERGY, AGILITY and ENGAGEMENT by having a strategic plan. It provides a springboard toward EMPOWERMENT and has a direct impact on PRODUCTIVITY and PROFITABILITY.
Phillip as an outside facilitator, is skilled in the art of facilitation will help guide you through this process.  It requires tact, finesse and wisdom from a variety of disciplines and industries to encourage "out-of-the-box" thinking.  He will take the time to learn your organization, your expectations and customize the experience in order to help you maximize your return on investment (ROI) from this program.
As your strategic planning consultant, Phillip will help you take your business to places you never thought possible with a deliberate and transformed focus. Creating a strategic plan is a critical element of an organizations' operating rhythm for continued sustainability, profitability and ongoing transformation.
It will require your leadership valor, courage and ongoing commitment. Every organization is unique and one approach does not fit all.  It requires experience and fresh outside perspective to help organizations move beyond typical tunnel vision to see what's possible.
Strategic Planning Model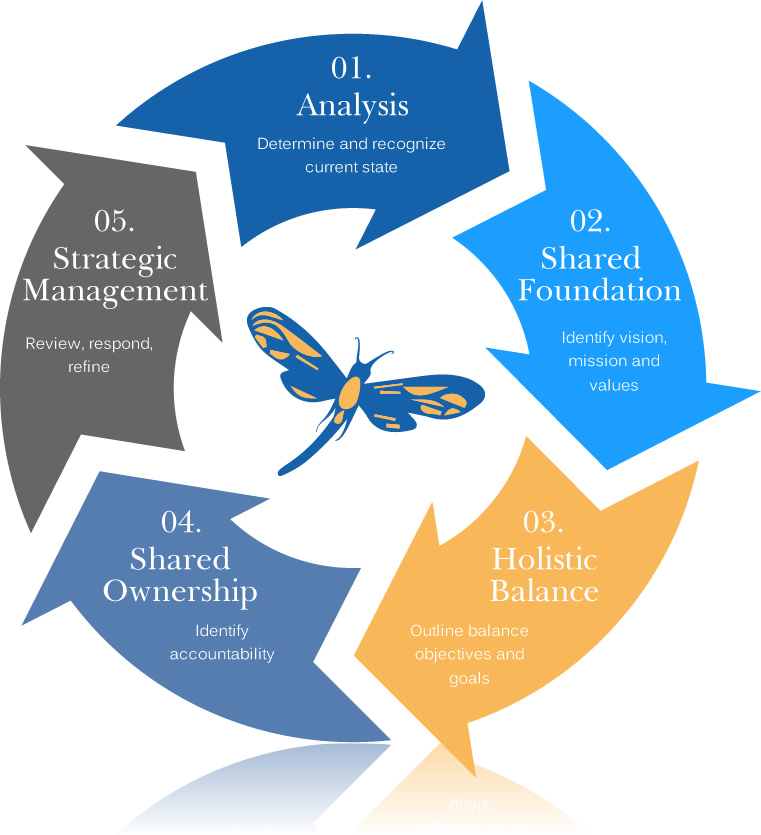 01. Determine and recognize current state:
Analysis
We take a neutral and honest look at your current state together to identify successes, opportunities and challenges. This can be achieved through a variety of analysis techniques which include performing management and employee focus groups, completing market research, employee engagement surveys, etc.
02. Identify vision, mission and values:
Shared Foundation
We help you create and/or evaluate your vision (why are you doing this), mission (how will you achieve this) and your core values (who are you-culture). These create clarity, alignment and include input from all corners of your organization to maximize creativity and shared ownership. This defines the foundation for your culture, true empowerment, and guides decision-making leading to improved productivity.
03. Outline balanced objectives and goals:
Holistic Balance
We often achieve what it is we measure. Are we measuring the right things? This strategic planning will foster intense debates and discussions; to identify certain desired outcomes (increased revenue, improved margins, higher ROI) will result from a given set of initiatives with a balanced and holistic approach in the form of a balanced scorecard. We identify the balanced "four corners" together then success measures and aligned SMART goals.
04. Identify accountability:
Shared Ownership
We distinguish between those accountable and responsible for desired results. Support creating a system of accountability and linking individual performance to the objectives and goals is key to a line-of-sight strategy. This allows people to see how they are making a difference and ensures alignment. This commonly missed element supports employee retention.
05. Review, respond and refine:
Strategic Management
Life happens and economics can shift quickly. Are we responding timely and deliberately? Strategic planning is incomplete without an emphasis on strategic management throughout the year. We will establish a formal review calendar for you to review progress and refine components as necessary. A plan is destined to fall short without this; which can have a negative impact if the goals are not achieved.
SOURCES:
HARVARD BUSINESS REVIEW, http://blogs.hbr.org/2013/10/four-tips-for-better-strategic-planning/
Ansoff, H.I., "Corporate Strategy: An Analytic Approach to Business Policy for Growth and Expansion," McGraw-Hill, 1965
Rumelt, R., Schendel, D. and Teece, D., "Fundamental Issues in Strategy, a Research Agenda", Harvard Business School Press, 1995